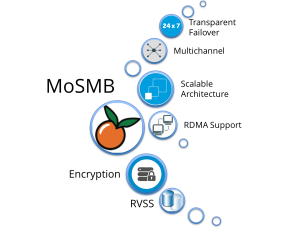 Enterprise SMB3 features supported by MoSMB
Enterprise storage requires advanced features to ensure varied use cases, business continuity, security and high performance. MoSMB's advanced architecture and powerful SMB 3.x features make it the preferred choice for the enterprise data center.
MoSMB, besides a SMB 3.x server also supports the following advanced features:
SMB Transparent Failover – Continuous Availability
SMB Scale-Out – Active/Active file server clusters
SMB Direct (SMB over RDMA) – Low latency, low CPU use
SMB Multichannel – Network throughput and failover
SMB Encryption – Security
VSS for SMB File Shares – Backup and restore
SMB REST API based Configuration – Manageability
SMB 3.1.1 protocol support
And many more SMB 3.x features.
Sorry, the comment form is closed at this time.